Well I just upgraded PSU from my venerable Seasonic S12II 500 to a Bitfenix Fury 750w (ran into a few issues initially, but all is well now).
I recently went from a gtx 460 to an HD6950 courtesy of Soullessone (http://forums.realhardwarereviews.com/everything-hardware/my-soullessone-sponsored-upgrade!/), but because of my aging PSU I didn't push it at all.
Now that the new PSU is in I immediately flicked the magic bios switch to have the extra shaders unlocked (hd6970 shaders, but at hd 6950 clocks). I now have it at the max settings that afterburner allows by default (840 core/1325memory…up from 800/1250). Next chance I get I will unlock unofficial OC in afterburner and push the core a bit higher on stock voltage, but I will likely leave the memory at 1325, as there seems to be some posts online of memory failing when pushed too hard....they are likely only rated for the 1250 if it is like most reference 6950.
Did a single benchmark for a reference point. Just Cause 2: dark tower bench.
Started at HD 6950 = 210w, 76.47fps with old PSU. FPS stayed the same, but power down to 195w on the new PSU.
Unlocked shaders (1408 increased to 1536) = 197w 77.5fps
840core/1250mem = 204w 80.83fps
840core/1325mem = same as above....how odd....but then I upped the power limit to the highest supported of +20 (not sure exactly what that means, as voltage remained the same at 1.1v under load, and there was no frequency drop on mem or core prior, but once this was increased it went up to 210w at an avg of 82fps.
Update: see post two for further overclocking.
Here is some pics tidied as best I can in my antec three hundred (I have to get some good pics at some point instead of phone pics). Takes some work in that case to clean it up.
Take good advantage of that small area to store extra cable. Look at all the non-existent areas for cable management.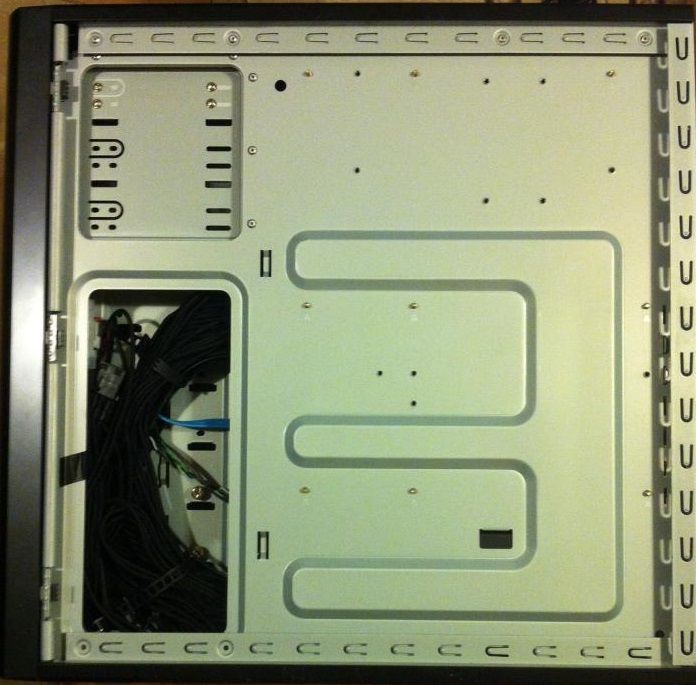 Here's the interior: