Hi guys, so I decided to throw together a steam machine and try out some living room gaming and in-home streaming. Had some Gift cards and some spare parts laying around so I decided to get things going.
First I needed a mini ITX case that met with GF approval and she OK'd the Cooler Master Elite 110, then it was wait wait wait, here it is, time to assemble !
So for this Build I'd be using the AsRock H81M-ITX (it was the cheapest overclocking motherboard that day) paired with an Intel G3258.
Cooling : Dusty old Antec Kuhler 620 and a lot of fans, even a big old 200mm case fan.
PSU : nasty old Retail Plus spraybombed black to fit in

Memory : 2x8GB Crucial Ballistix 1600 DDR3 1.5V
GPU : MSI 660 2GB Twin Frozr
SSD : Crucial M4 128GB storage Windows 10 tp.
HDD : Hitachi 512GB 7200rpm  Storage
Some nice pics of the motherboard, clean layout but know that there is NO USB3 header.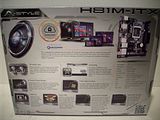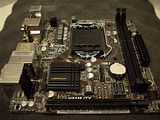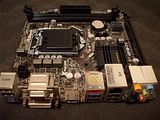 Now onto the case… and the fun begins.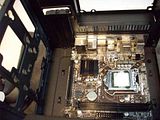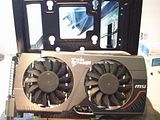 Well now that is a problem, my GTX660 is just too long for this case, send it back right???? NOOOOOO Angle Grinder Time!!!  ;D
Now the other problem I had with this case is that it is laid out to have the HDD's in front of the side fans, in front of your GPU, choke city. So I drilled out the rivets and reversed the side panel hardware, mounting the HDD's on the CPU side and leaving the GPU open for Air.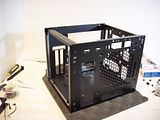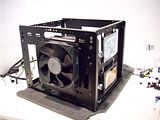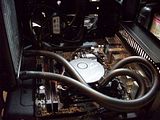 Now just slide in my GTX660 from the rear (hey now) and hook up all the fans.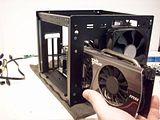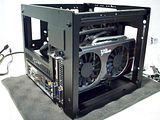 The PSU looks nasty brass color so I'll paint it black, it'l do for now.
I really had a lot of fun building this PC. The Cooler Master Elite 110 case is awesome if you want try modding, its basically just an empty cube waiting for your cool ideas. This little box stays icy cool even when overclocked to 4.2GHz and runs everything I throw at it. I did have to disable all the pretty lights though, apparently they were too much. Now if I can fit in my 290X I'll be looking to jam that in there.