Sunset Overdrive
Killing with Style
Author: Shawn Campbell
Introduction: One of the few Xbox One exclusives I've been wanting to try since launch, being developed by the same team that makes a very enjoyable comedic series for Playstation, Ratchet and Clank. I had expectations that there would be a lot of humor and a ridiculous arsenal of weaponry throughout the game. My only concern with Sunset Overdrive prior to playing was whether they could weave an interesting story out of a zombie apocalypse.
Story: The Story starts out with the player character being chased by infected known as OD also known as overcharge drinkers after working at a concert picking up trash. The concert was a stage where a new energy drink, known as overcharge was being sold and consumed for the first time. Unfortunately being untested prior to release, the side effects ended up turning those who drink it, into abominations. The game starts quite similar to what you would expect from the zombie genre; the player character is racing to safety, trying to get home and eventually meets a grizzled old man that trains them on how to survive. During this time, the game starts to become crazy and over the top with forth wall breaking, as well as many references to nerd culture and clichés. The character meets other survivors, and gains bases across the city all the while saving whom they can in their quest to escape Sunset City. As the player progresses through the story shortly after the opening the main character finds out the cause of the OD was due to an untested energy drink from the company FizzCo. FizzCo is the one responsible for the quarantine of Sunset City and as much of antagonists at times as the OD themselves, as they will try to stop anyone from surviving the Sunset City outbreak and spread the news of what started the apocalypse. Deploying enemies known as FizzcCo Bots in order to kill off any potential survivors in order to maintain a positive image and a high stock price. The game is quite clever in its quest story and system, and never takes itself too seriously. Which is something I enjoyed quite a bit, depending on your sense of humor this game can be a blast from start to finish. Although if you prefer your games gritty and realistic this game is one of the farthest from that, although a lot can be enjoyed from the constant humor and lack of realism. Overall, though the story itself is passable, the characters and the humor itself is what really drives the game, as the plot itself is rather thin and not very interesting. Even though the various characters and personalities especially with one of the groups you meet late into the game make it worth the time put in.

Controls: The controls are simple and are overall easy to get used to with the gameplay elements themselves taking more time to get used to than the controls. As grinding and bouncing around an area while avoiding enemies presents more of a challenge when starting out, while the controls themselves are quite simple.


The left control stick is used to control character movement, while the right operates the camera. Left trigger is used to strafe, while right trigger is used to fire equipped weapon. LB is used to access the weapon wheel for switching weapons and RB is used to boost/dash. The d-pad is used to select traps from the trap wheel; the left option button is the map, while the right one is your log/menu. The Y button is set to interact with objects and characters, B is your melee weapon, A is to jump and X is to dodge, roll or grind on various objects.
Game Play: When you start the game, you are brought up with a character customization page where you create your characters appearance and clothing.

Clothing and accessories can be changed at any point in time and there are a lot of locked and collectable apparel throughout the game. These can be either purchased with cash you get from enemies, completing the story missions in sunset city and side quests.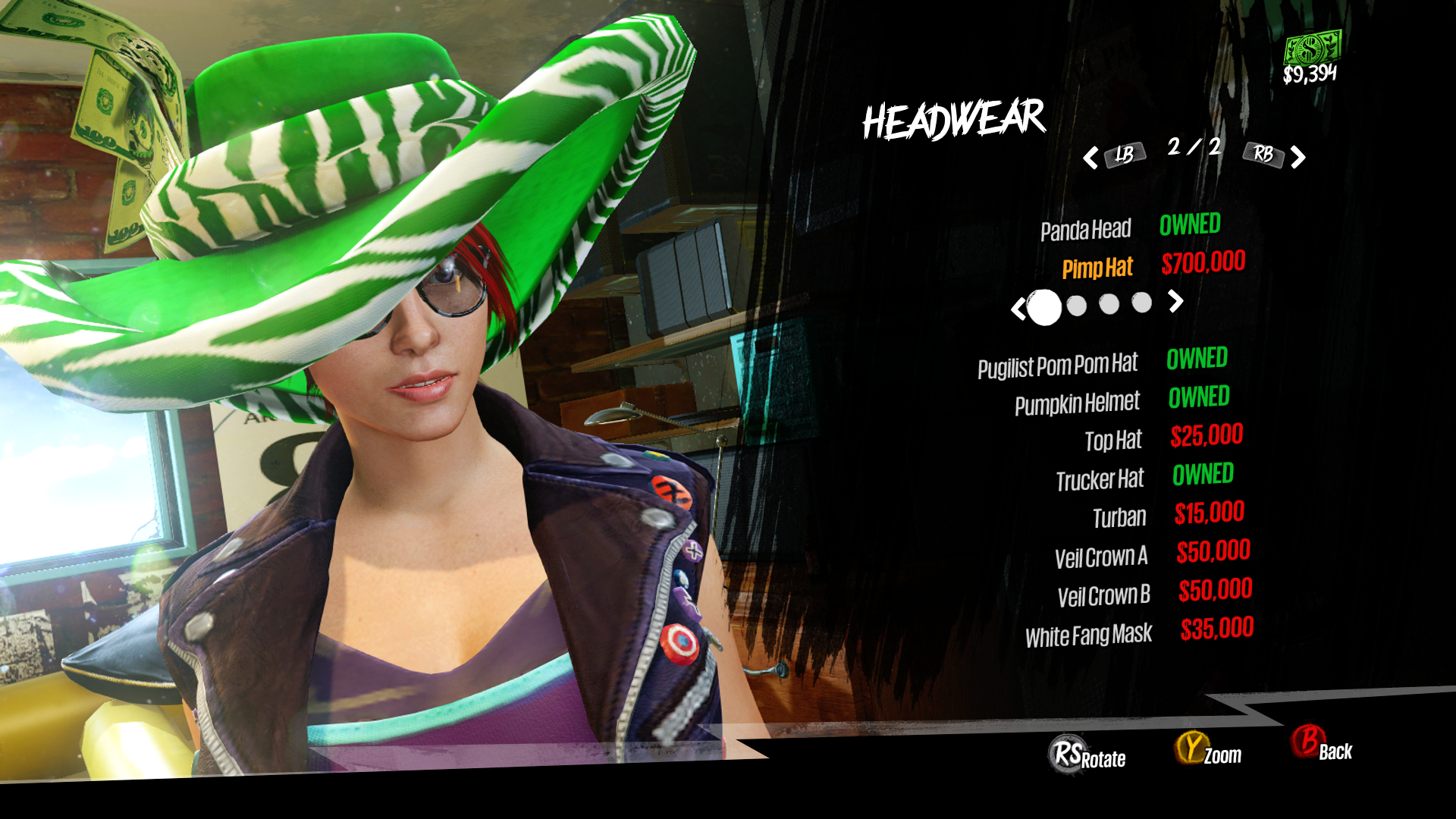 The game plays a bit different than you would expect out of a third person shooter and closer to that of a third person action game with ranged combat being the priority.

A lot of the game involves around kill and style combo's in order to keep your style meter maxed out as much as possible, for all the character bonuses you get when your style gauge is at its maximum. You get style from killing enemies with various weapons and traps as well as grinding, bouncing and wall running on various surfaces.

The game takes a little getting used to for the combat, but once you get into it, the combat is very smooth and well done. Traversal in the game is simple and easy to get used to as you can grind on any railing/edge or wire and travel quickly while doing so. This replaces the need for a dash button and the game will remind you a few times that that is the entire point of grinding.
As the player progresses through the game, you will gain badges based on killing enemies, grinding, bouncing and wall running.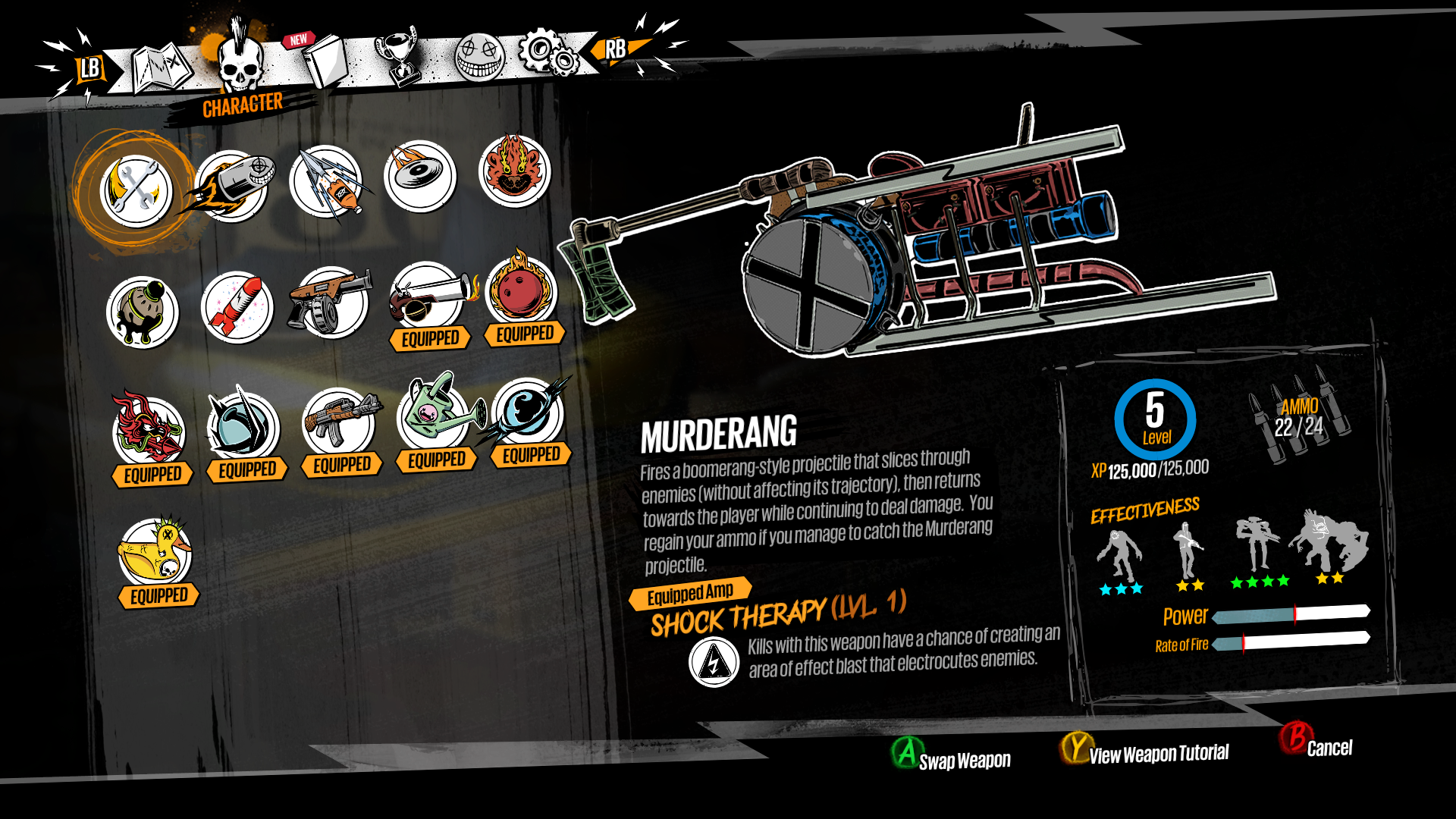 These badges can be turned in for overdrives a player can equip in order to do more damage with certain weapons, take less damage from various enemies or gain style faster.

All badges are attained based on a certain amount of actions while playing, and you will be able to upgrade based on the kind of game play style that fits how you play. All overdrives can be upgraded up to a maximum level of four with each level increasing the effects of the bonus.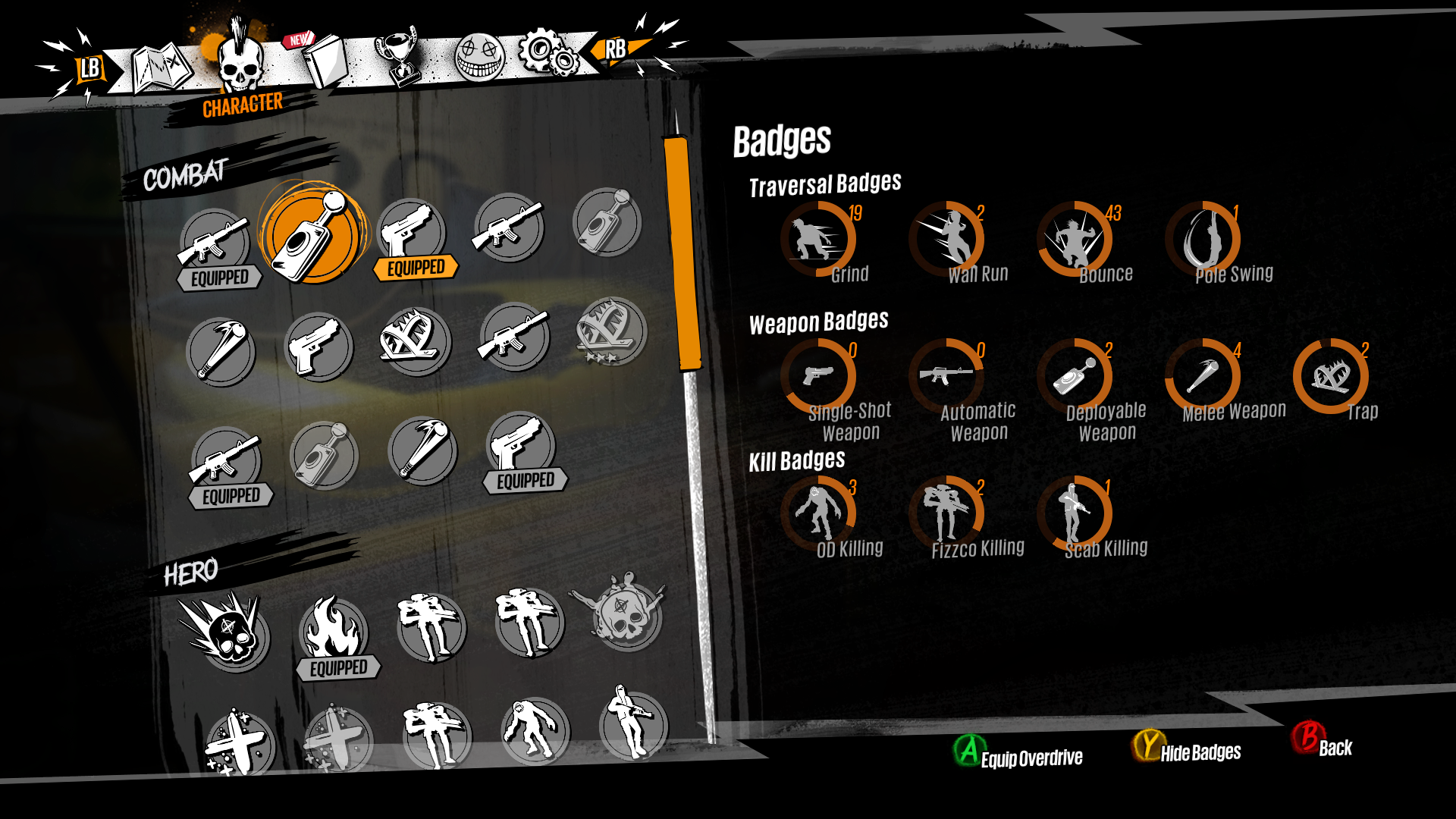 As for weapons themselves, there are four types of weapons melee of which only the look is interchangeable, single fire, automatic and deployable weapons. As stated melee weapons can be swapped out between a baseball bat, sword, hammer etc. but is only cosmetic and does not affect the game in any way. Ranged weapons however are all different in look and ability, some of which being regular style weapons like a flaming magnum, to completely ridiculous such as the dude bowling bowl launcher, and TnT teddy which is a teddy bear grenade launcher. There are many weapons in the game and each have various uses, as different enemies are weak to certain types of damage and strong against others. This causes a lot of mix and match between weapon types as you progress. Although when it came down to deployable weapons outside of one, I found most were hard to find a good use for that another weapon could not easily replace. As deployable weapons stay stationary waiting for hordes of enemies to gather in the radius in order to deal damage, which if the player is constantly in motion is hard to time to hit many enemies.
Once you get a couple story missions in you will gain the ability to buy and equip amps, amps come in a couple different forms.

Melee amps affects your melee attack and can cause various effects such as explosions and shockwaves that come out of your melee weapon if you are at style level two or higher. Dive bomb amps affect your melee weapon smashes when you dive bomb from high above ground, mostly sending out shockwaves, shattered glass and various other effects, these also only come into effect at style level two or higher. Hero amps can range from something completely cosmetic to a knockback/shield on character as well as increased damage the lower the players health, these are activated at style level one or higher.
Epic amps are unlocked at style rank 3 and have the best effects, ranging from pools of fire and lava spouting out where your character walks or grinds, to lightning bolts striking enemies from the sky at complete random. Epic amps can cause havoc as well as help clear out enemies quickly when needed. Lastly weapon amps can be added to any weapon that is level two or higher and cause additional effects to that equipped weapon, which can range from adding electric attacks, to enemies being able to spawn into TnT teddies when killed. Weapon amps like melee and dive bomb amps take affect at style level two or higher.
As the player progresses through the game, various quests outside of the main story mission will appear all over the map; these can range from fetch quests, escort and defend an objective quests. Some of these quests such as the base defense quests unlock new abilities and amps and allow the use of traps. Traps require energy to place and all traps, based on power of the trap, have different amounts of energy they require to be placed. Some traps are activated by the player and others are automatic. Activated traps require the player to jump on them, in order to engulf enemies surrounding the trap in flames, shoot out electricity or other various effects. Various traps can also be combined together, if there is a dotted line connected said traps they will perform together. An example would be the Fling Board and Hack N'Slay, which can be combined so that the Fling Board launches enemies into the spinning blades of the Hack N'Slay. If a player does not like where a trap has been placed or an enemy destroys the trap, the player will be refunded energy and able to place the same trap again or a different trap.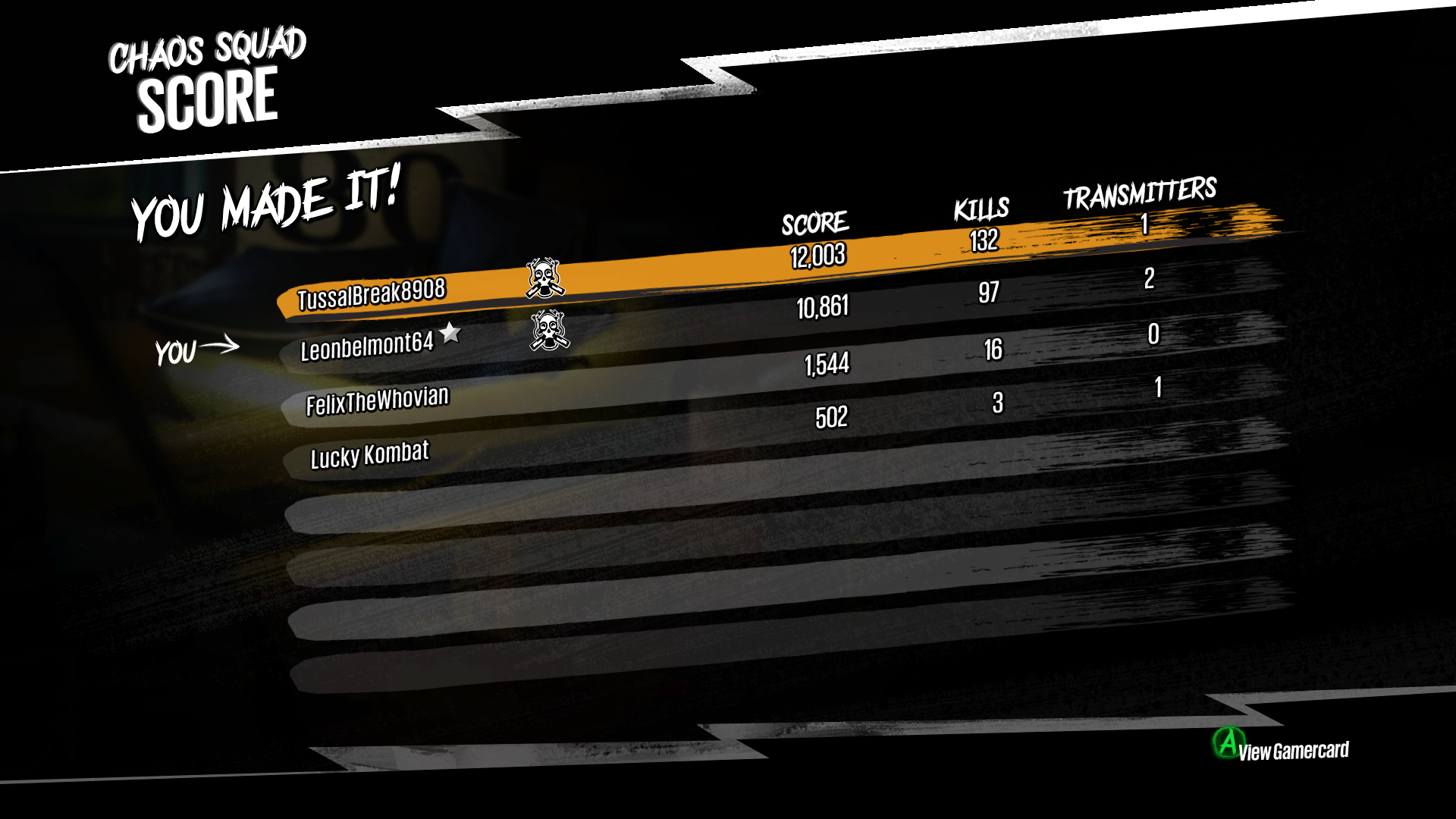 Overall, the single player was a blast to play, tons of collectables, upgrades, quests to do, as well as a fun game style and entertaining commentary while playing. All of which carries over into the multiplayer except for the commentary and humor, the only thing I found lacking in the multiplayer. Although multiplayer can still be enjoyable, it is more about competing with others in a group to kill enemies and clear objectives on various maps and areas. Playing multiplayer is also how you are able to upgrade certain amps, weapons and gain different clothing for your character. Although I found the multiplayer alright, due to the style of rest of the game it was not something that hooked me at all, fun for a few times and then the overall experience kind of tappers off and becomes grind like and uninteresting. Some people might enjoy it, although it was not for me particularly.
Graphics/Music: The graphics for this game are quite good; though it may not be as realistic as a few other games due to the art style, it still is extremely good.

The art style as well is very colorful and full of energy, which helps drive the direction of the game and creates a very fun atmosphere for the player. The music is also suitable and entertaining as it is upbeat and fun which reflects well to the games style, of taking the apocalypse and trying to make it an awesome apocalypse, as even various NPC's will note. The creativity in the art style whether it is in the environments, weapons or characters themselves is very lively and entertaining and makes for a great experience.

Recommendation: I can recommend this game to anyone who owns an X-Box One as this is one exclusive worth trying, there is a lot of fun to be had in a game that doesn't take itself too seriously and likes to have fun with the zombie apocalypse genre.
Conclusion: In conclusion, Sunset Overdrive is a beautiful and fun game, one of which I had a complete blast playing and could see myself coming back to in the future. Much like Ratchet and Clank, Insomniac has created a fun and entertaining game that I believe most will enjoy. From its humor, to the combat and various weapons this is one, fourth wall breaking ride that is great from start to finish.
Story: 3.75/5 Stars
Graphics: 4.5/5 Stars
Gameplay: 4.5/5 Stars
Music: 4.75/5 Stars
Overall: 4.4/5 Stars